Do you remember El Voyeur Invitado, the new collaborative project of Apricots?
We continue in this and, little by little, it is taking shape. The artists who have jumped on the car and want to collaborate are becoming more interesting and we are so excited that we no longer put on panties because we do not stop getting wet.
Today we return with the second part, accompanied with new artists: on the first hand we have Luis Quiles, internationally acclaimed illustrator of Sabadell whose work you will have seen on several occasions and, possibly, you will have thought "Damn, how's your uncle?" On the other, we present two collaborators who have not yet had the same impact as Luis, but surely with The Invited Voyeur will have the success they deserve. We are talking about Albert Corr, a resident in London who, as a good social media strategist, is dedicated to … I do not know exactly what, but he knows how to make animated gifs that are very cool; and Pedro Comesaña, a Galician artist who if you visited our stand during the Erotic Salon of Barcelona Apricots, you will have seen in action painting a picture of 2x2m.
As always, we have asked the collaborating artists to accompany their work with some words of introduction and at the same time we asked them, why they accepted to collaborate with a whore company? Finally, they had to complete a sentence, which has no function apart from making me have a good time and a hard time to them. This is what they have told us:
Luis Quiles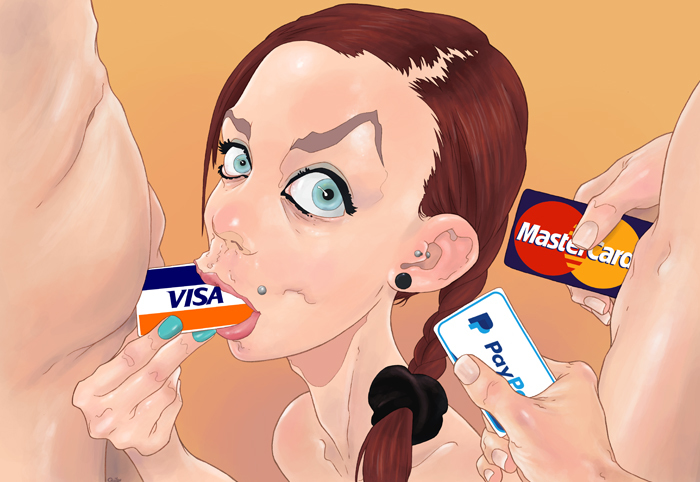 What he says about his work: The drawing is called "The oldest office in the world". My idea about this drawing is that prostitution does not stop being an economic transaction in exchange for a service like in any other job. But the morality that we drag is still leaving it in a limbo alegal, or illegal.
Phrase to complete: Many people are generous unwittingly and at the same time criticizes me without knowing that's motivates me to keep working harder and harder.
Question: Why did you decide to accept the collaboration with a brand of whores?
Because all artists are whores to a lesser or greater degree, and no topic has been more linked to art than prostitution.
Albert Corr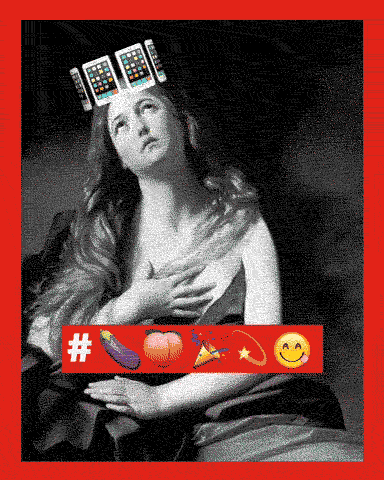 It says of his work: Tinder, Grindr, Brenda, Bumble … In your house or in mine? What are you doing? Photos? Do you pass me location? Where are you? Netflix and chill? The great world of the smartphone, where we are all hyperconnected and with the possibility of having sexual relations that we can reach with a simple click. Even Maria Magdalena would blush! Why do not we return to the essence of the sex ?
Phrase to complete: Since I started doing yoga, my coverage has increased and all the world tells me smartphone piece.
Question: Why did you decide to accept the collaboration with a brand of slut?
I believe that prostitution is a very worthy profession and it continues to impact me that it is still in a situation of 'allegality' in our country. For that reason, I found it very interesting to collaborate with a brand like Apricots. I fully support his philosophy and fight to get an improvement in the working conditions of prostitution.
Pedro Comesaña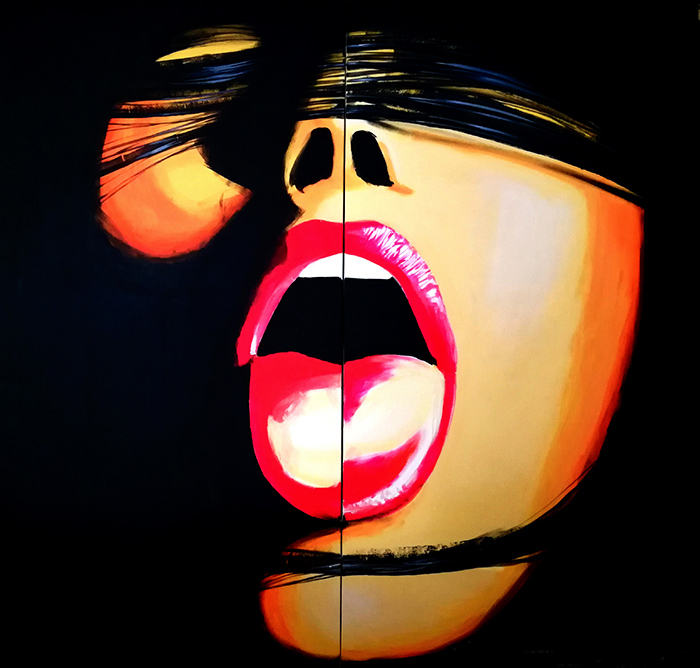 He says of his work: His proposal for The Invited Voyeur is the painting that took place in the Salón. It has not been easy to paint it with that fuss, since our stand hosted the performances of many artists in the porn sector and was a non-stop of curious people better to say horny people, who where determined to record everything to ensure good shots for the straw before going to sleep. Despite this, the final result has been worth it.
Phrase to be completed: Every morning when I wake up, I get a toast looking to the sea .
Question: Why did you decide to accept the collaboration with a brand of whores?
Because I think the function that Apricots does is very important and even necessary. First for them, because they deserve the same rights and obligations as any other worker, so that the mafias stay away from extorting them, kidnapping them, killing them …
I also believe that it is time for society to change its point of view and especially his way of treating them. Nobody respect whores but is one of the businesses that make money in the world, they only offer sex that for me is one of life's greatest pleasures. Anyone who can not get it normally, still very lucky because a professional can give it to them, so I think they also do social work.
And this is the part where I should tell you that if you want to know about El Voyeur Invitado or other initiatives that we will carry out, you have to sign up to our newsletter. But, if you were born with the gift of clairvoyance, consult your crystal ball and that's it.