We are at the doors of the Christmas holidays, a few days of peace and love. I especially like Christmas because it is a time of giving and receiving. Who does not like to be given … love.
I do not know about you, but since the beginning of the Black Friday, my mind has not stopped thinking about Christmas. I do not know if it is the fault of the media or publicity, but I am already stressed. They say that Christmas is to be calm, in family, enjoy the moment and yours. For me, Christmas is a time of stress, thinking about everything that goes with it, buying for everyone, eating several days with the family, and if you have a partner, I'm sure that every year you have the same discussion, where do we eat? with your family or mine? In the end you do not have time for yourself; In a time when you should be relaxed, you end up more stressed than if you were working. I am wrong?
But there is no harm that does not come, I learned so many things from my father … Yes, I know, what would happen to me without my father's advice. The man is a well of wisdom, one day he saw me so stressed for Christmas that he taught me the secrets to enjoy it as I had never imagined before.
The basic thing to have a good holiday is to try to be relaxed and see the positive side of things, and this can be achieved very easily. You have to fuck, and a lot. It seems difficult to do it at Christmas, but it is not so much if you know how.
If you are the type of person who is stressed by everything that the Christmas holidays entail, do not worry, I have prepared a diagram in which I show you how you can relax during Christmas.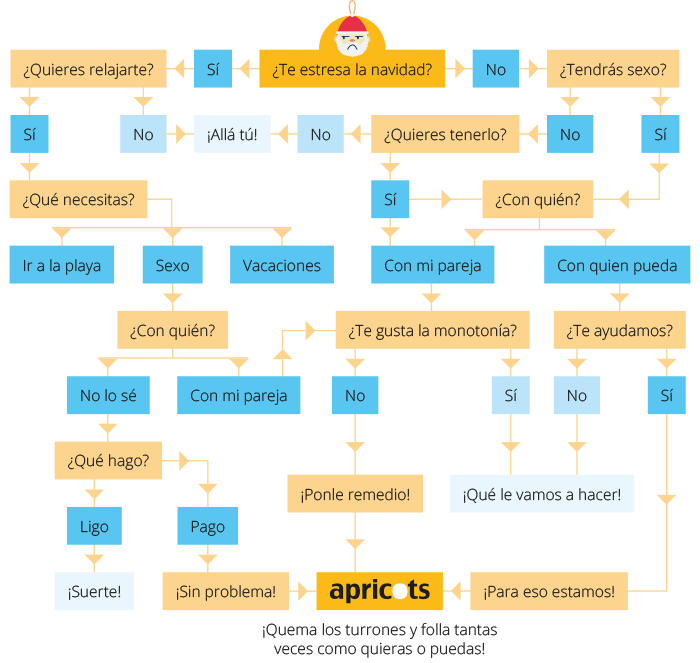 And then I will take the opportunity to give you some tips on how to have sex at Christmas without your family find out.
The starting gun kicks off on December 22 with the Christmas lottery. By the way, do you already have your tenth? Surely this year we touch, the illusion can never be lost. Well, but the best thing about this day is company dinners, a perfect plan to get laid with someone at work. It can not be? Nothing happens, I wait for you in Apricots. The first day of parties and you're already de-stressing. I love it!
Another type of stress that arises during the holidays is having all the gifts bought and wrapped for Christmas. My advice is to buy them online earlier. Then, on the 24th you have a good excuse to pretend that you go shopping, and instead of going to stores, you have the whole day all to yourself to be able to de-stress. I do not need to tell you how you can do it, you're not a teenager darling. You will arrive so relaxed to the family Christmas dinner that you will end up singing Christmas carols with your mother-in-law.
On the 25th there is a family diner again, and here everyone drink a bit. The time of the opening of the presents came, which is the perfect moment to escape away, maybe they do not realize it. In my family, after the gifts, some of my uncles take a long nap. So nobody will notice your absence.
In Catalonia, on December 26 it is a party and another family meal, 3 meals in 3 days, an authentic family marathon to go on the road. Can you imagine 3 meals for 3 days, but the ones that we really like, the ones that make us tremble with pleasure? I get goosebumps just thinking about it.
From the 27th to the 30th of December we have a few days of truce, at least of meals … family. And the day comes 31, as the saying goes, who does not fuck at the end of the year, does not fuck all year. Then we have to remedy it, right?
It is a night of celebrations, a night in which apart drinking and dancing a lot, you have to fuck very hard. Well, that's what all my friends did, and me too, as Manuela's mother would say. After the party, before going to sleep, it is usually a tradition to have churros with chocolate, I love them. If you feel like it, you can come to dunk it in Apricots, we have the best chocolate in Barcelona..
You can not deny that you have proposed a series of purposes for the new year, if sex is not contemplated, you should include it, you will be happier and you will get fit in a more pleasant way.
These days I read a lot about Christmas and sex always appears, I'm not a believer but I think it's a sign. Maybe it's the star that illuminates my path. Tell me if these statements do not speak to you….
Men at Christmas fantasize more, their main fantasies are to fuck on a sled and under the tree with the lights on. Do not worry, I can make your fantasies come true, I'll let you be Santa Claus and enter my fireplace. I love seeing how Santa enters the fireplace and how he eats the candy I have prepared for him.
Another news that I read and I was shocked, did you know that women are more unfaithful than men at Christmas? I believe it, although I propose a challenge, why do not we turn this statistic around?
Christmas is a magical time in which all are benefits, especially so that we can enjoy and receive immense pleasure, come on, so we can fuck more. And as I said, all are signs: more than half of the products of Christmas meals are aphrodisiac, and above you say, you have to burn those nougat. Everything is provocations, is not it?