The newspaper classifieds are a wonderful place. Reading them is like discovering a parallel world in which grammar and syntax do not exist and creativity also is not so famous there. However, what is not missing is a lot of people of all kinds who read them and, of course, we like to be where there are many people. Therefore, every week you will find us in the classifieds of La Vanguardia and El Mundo Deportivo (written version, of course), trying to highlight more of what the ads of the fascinating parallel world do, but we are smart.
What happens is that we can not always highlight how we would like, because there is one thing that constantly gravitates on these types of content: censorship. We are so accustomed to it that we have had to learn to self-censor, so we take work away from the Holy Inquisition.
Here are three examples of ads that have censored us or that we have had to censor, under the kind request of these people. P>
Campaign Eggs
Instead of "Entrust your eggs to expert hands" the person in charge of the content will have read "We are more whores than the hens", because if not, the reason for this censorship is not explained. Do they never eat eggs, with the multivitamins they are? In Apricots, apart from eating many eggs, we also care about caring for them with love and respect. Can someone explain to these people , please.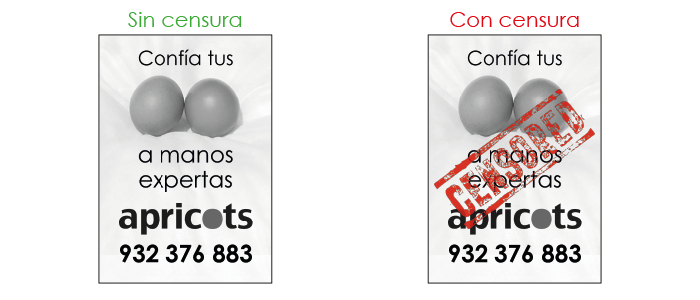 Campaign How long ago
"How long has a girl been sitting on your face?" is not an indirect way to encourage a man to drown him. Unfortunately the friends of the Holy Inquisition thought that we were instigating suicide, not love and pleasure. In the end we had to cut out the copy, which remained stale like them: "How long ago no …"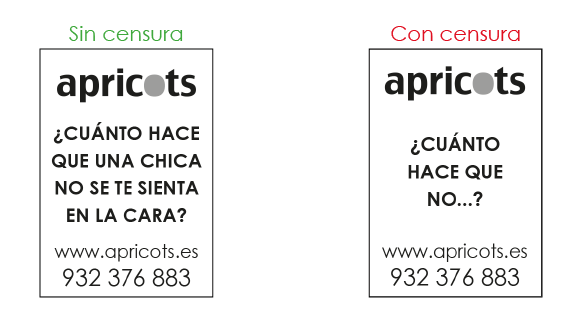 Campaign First appointment
"We fucked on the first date" is very bad, before it is necessary to get married. We would have had to write a more tender copy, "On the first date we only give the ass," which is decidedly much more Christian-apostolic. But no, in the end we had no choice but to ask our grandmother to write the text. His proposal was "We do it on the first date". Thank you grandma for showing you so open and fresh… Of mind, of course.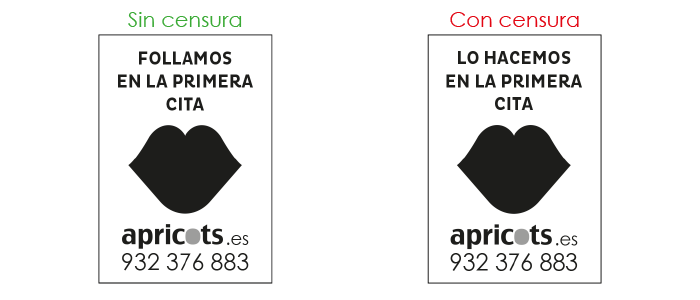 On March 12, the World Day Against Censorship on the Internet was celebrated. Spain, fortunately, is not in the same situation as other countries where access to independent information is denied. Here only the ads with sexual content bother , although the great brands to use the female body as a sales claim for any product: colognes, lingerie, cars and a long etcetera. According to the report of the Observatory of the Image of Women (OIM), one of the criteria that determines sexism in content is to use the female body as a claim or a sexual object, passive and at the service of the sexuality of man. Well, Apricots rarely uses the female body to advertise itself; we prefer to use the power of the word, with humor and irony. Unfortunately this bothers more than an ass or nipples.