The truth is that the BDSM universe had always aroused a lot of curiosity in me, but it had never occurred to me to go deeper into the subject, why? And putting it in the CV did not help me either! Until one day I had the chance to interview Ama Monika , one of the most important and influential personalities in the sector. I stayed with her in the Erotic Salon of Barcelona Apricots and, I have to be honest, the fact of being alone with her scared me a bit. Mistress Monika imposes a lot, it will be because she does not give so much the impression of being a horny or prankster woman, or it will be because of the leather garments, the long heels and the whips she wears as if they were any fashion accessories. Be that as it may, he gave me a lot of respect. However, as often happens, first impressions are deceptive.
I wanted to be clear with her from the minute zero "I am a total inexperienced in BDSM, you will have to explain things to me as if I were a silly girl". It was at that moment that I saw her smile for the first time, and with her I understood that in front of me was not a BDSM mistress but a woman endowed with feelings and ability to empathize. Come on, a normal human being. "Well, I will not hit any whiplash," I thought.
The first question was not asked by me, but by her: "When are you going to publish the interview?". Since then it has been more than a month and now, finally, here are those 50 minutes of conversation written in black on white.
Ama Monika, how long have you been working in BDSM? I have been working and collaborating for 10 years in the Erotic Festival of Barcelona, ​​and 15 years working as a professional in the sector.
Have you always been Ama? I'll be very sincere: I started with a money issue. I had to pay the mortgage and I had no choice but to get in as a young lady, which was not my way with my character. Life wanted me to find an older woman with alcohol problems who was a mistress and who proposed to answer the phone and act as if she were his submissive. Back then I had no idea what all this was about. He answered the phone saying "My lady is at this moment with a slave" and it was a lie, she was more drunk than anything else. Until one day I said to myself "Well, why not trying it on my own?" And so I have done it. I started like that, without anyone explaining anything to me, in fact I mixed sex with domination. I was learning thanks to the submissive people who were teaching me. Then he called me Patricia and they told me "Look, you have to do this or that". I did not pick up a book until after 5 years. That is, I learned alone and with my slaves, who in fact, after 15 years, are still with me.
That is, from the first moment, even if you did not have any kind of knowledge, you have been loved. Have you never been a slave? No, I have never become a slave. BDSM has made me find myself, to discover my character and my true way of being. When the people who knew me began to find out, I had a lot of moves and contempt, but over time it started to give me the same. From there I began to open the doors of the sites, I met super smart people, I discovered that this world is very funny, it has a wide range of games and apart it gave me an impressive freedom. That is, with BDSM, I am myself.
What is the relationship with your slaves offstage? When I met you the first time, you went with two of your slaves … Yes, and one of them is my partner.
And as a couple do you behave with the same dynamics of BDSM? No, it would not be healthy and things would get very confused. When there is a relationship of time it is already like a marriage. I think that is the same for woman and for the man. Once clear that we play, also has given me some spanking like any couple, and if we feel like disguise, we do sex or whatever, but with others is different.
How is it different? I have a slave, for 5 years, with whom I have never had or will have any kind of sexual relationship. Our relationship is a 24/7. He sees me as an unattainable Goddess to whom he has to respect and obey at all times. If I undressed, or just taught a breast, all that respect, desire that feels for me would vanish without more, and would become a woman of the bunch. With my partner I am a Goddess turned into a woman. Now I will tell you a curious anecdote about my submissive. Sometimes he speaks untimely, or asks too much, being with it what is understood as "a passive master". Well, today he was a bit curious about the food because he got ahead of me offering him the remains of food that I had.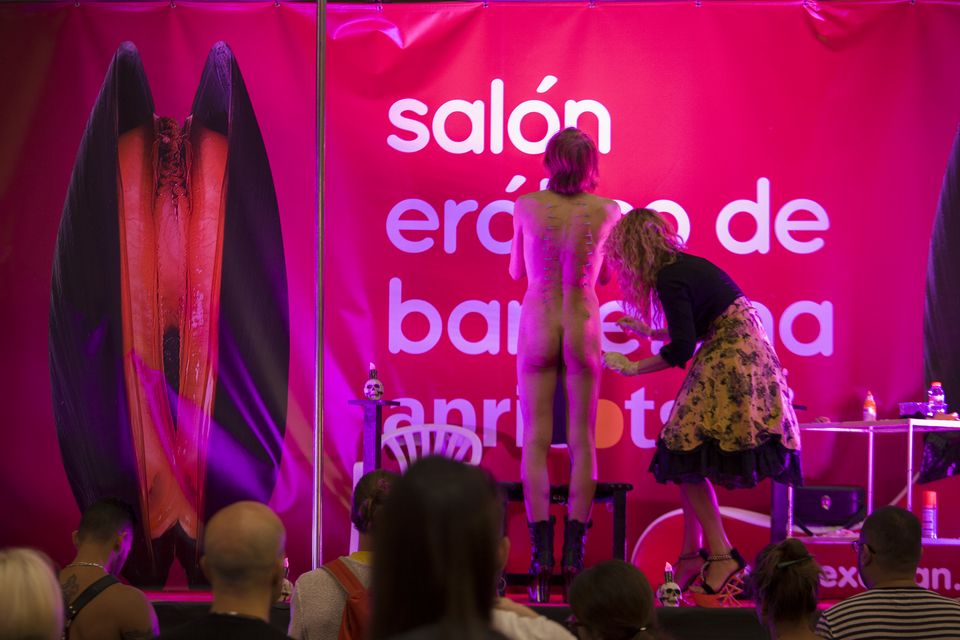 Do you never feel guilty or do you feel sorry? I felt sorry at the beginning, and you know what happened? That it did not achieve anything. Grief is the worst thing you can show in front of a slave, as well as fear. People do not know it but there are slaves who can turn against you, as you do not know how to dominate and speak with coherence, you can be bounced back. I've taken several scares that I've had to defend myself on different occasions …
Can you tell me some of these events? One, for example, raised my hand, but I was able to stop him and say: But what are you doing? I do not raise my hand or Christ. " Then I sent him on his knees, I stepped on his head and put his heel in his ears saying "You will receive the biggest beating of your life". I gave him the whip in the ass and then I ordered him to pull down his pants, make a straw, run on the floor and lick everything. When he finished, I told him to get off his knees with his pants down to the door and goodbye. And he told me "You are a very good mistress". There was another, when I already stressed as a mistress, who raised my hands twice and told me that he also liked to hit, so I said "What do you want, what's good for you from behind?". Well, I caught him, I put him on all fours, I took out a dildo, a spit without lubricant or anything, and inside dry, and when I finished I said "Go!". What I want to tell you with all this, is that if a woman wants to lend herself as a mistress, she has to have character, a lot of coolness and be very careful, either with what you do with the submissive, or with certain people.
Do not you think you have lost a bit of humanity? No, I am very judicious. I have a lot of humanity, I cry when I see bad things that really happen in life. I have known what sadistic people are and what has hurt me a lot. I have also suffered psychological harassment. And also, I have suffered some slaps, I know what it is and I do not like it, but all this has lifted me up. I know what submissives want and I'm very careful. If I had lost humanity I would have done a lot of barbarities, they have asked me for everything …
Like what? The biggest barbarity was that of a man who wanted to be castrated. We had a session of about two hours of very strong genital sado, but he has constantly thinking that he wanted to be castrated. Then one day, tired of always hearing the same thing, I told him I was going to bring a doctor who was going to do it. I had planned to spend a lesson, I told him that from that moment there was not going to be any key word, that he was going to give him everything he was asking for and there would be no going back. Well, he was scared! I said "It will be your birthday: then first we are going to make a great party and I am going to bring a young lady who is going to fuck like crazy. I want you to stay empty. " Of course it was all fake, it was just a plot I was riding. My intention was to bring a German friend who pretended to be the doctor, to gibe him pills to sleep him and then half stunned to see the doctor and make a mess. I wanted him to wake up in the morning with tweezers in his testicles so he would believe that it was the stitches and to give him an omelet that was supposedly made from what we had taken from him. But when I told him it will cost 5,000 euros, it was cracked and nothing was done.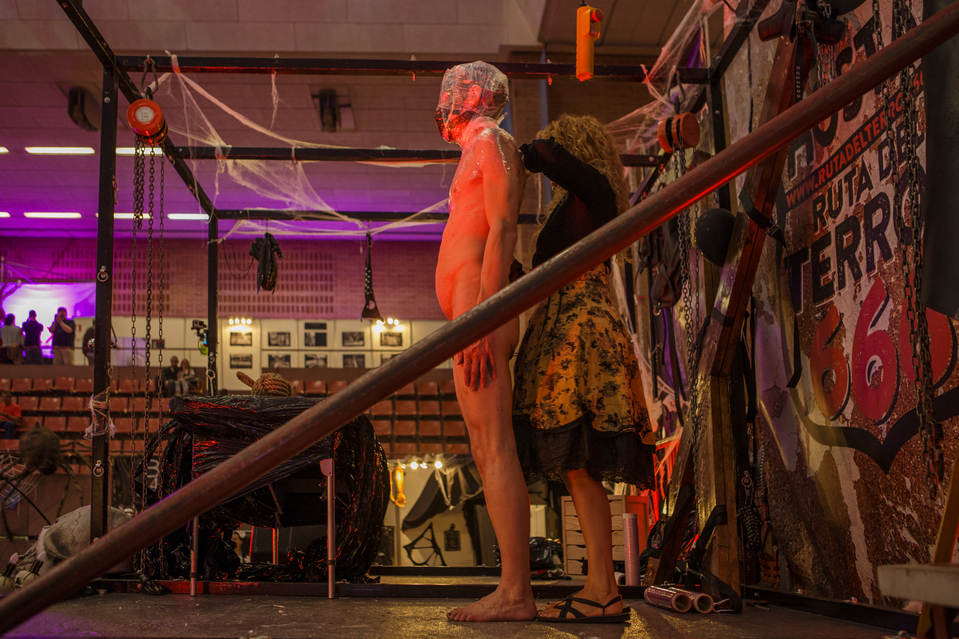 Do your customers tend to have a lot of purchasing power? There is everything, everyone likes this. There are those who can afford it and who can not. Some people do "brico-sado" because they can not allow anything else. When I started working on this, all the tools were made by me. My first whip was a hammer handle and a belt.
And now you have an experience? Now I have an experience that hallucinates …
If I remember correctly, you've been on many TV shows, right? Yes, I've been out in "7 days, 7 nights", in "Anonymous lives", in "Todo Madrid", in "Callejeros", in "La Noria", in "La Mesa Redonda" and in many more programs than right now I do not remember.
And how did you get all this notoriety? First thanks to my submissive, and then for newspaper ads. Then I met the owner of Tacones Altos and with him I started to learn about erotic festivals, and Mistress Monic was the one who gave me the step.
So that's why you became Ama Monika? No, it's not that. This name was put among the submissive, they decided for it.
Keep reading the interview here.