During the holiday season , especially during Christmas the only movie that we will find on the television are romantic ones, with the most famous one : Love Actually . A movie with scenes of love, infidelities, hugs, kisses, tears … The truth is that I really don't like watching these types of movies.

But this year I have decided to see other types of movies, with sex scenes and, thanks to different film platforms and streaming series, I'm sure I will have a lot of options.

I do not need to tell you that many movies became famous thanks to their sex scenes, such as 9 weeks and a half. Does anyone remember the synopsis of the movie? By the way, did you know there is a second part named Love in Paris?

The sex scenes are fun, intense and romantic, because sex on the screen does not always have to be serious.

Below I will list some movies with funny and unforgettable sex scenes. Sure some will make you laugh and, at the same time, they will put you a bit horny.

7 movie scenes that will make you laugh and put on horny at the same time
1.
American Pie
(1999) de Paul Weitz, Chris Weitz.
This movie was one of the most successful teen comedies of the 90s. There are several scenes, like masturbation with a sock that i have watched on Canal Plus, I do not know what channel would be in the United States, but the point is that I was looking an encoded movie. I seem to remember that my father had told me that he had done it too ( masturbating with a sock while watching a coded film).

But if a scene was recorded in the memory of the spectators, and I do not mean the one who fucks an apple pie, but to a concrete scene that surely managed to raise many erections among the youth of the moment. In the sequence appears the actress Shannon Elizabeth willing to have sex with the actor Jason Biggs but his precocity betrays him (twice) while the scene is broadcast live on the Internet throughout the Institute. I know that a lot of people have been in that situation, but be calm if it has ever happened to you because with practice everything improves.

2. Scary Movie (2000) Keenen Ivory Wayans.

If you do not know the saga of black humor and irreverent Scary Movie, then you have to see it now. From this movie I want to talk about the famous sex scene, so many things happen in this bed that I do not even know from where to start. We can see the actors Jon Abrahams and Anna Faris lying down giving each other affectionate kisses while she tries to suck him, but having never practiced a blowjob, she bites him. Later he is the one who goes down to eat her pussy and when he takes off her panties, a few bats fly out next to a bush that needs to be cut. Finally, she gets on top of his penis and starts riding and screaming "what's my name?" while he is whipping his cheeks. And we can not ignore the final scene of the ejaculation, it also stayed in our memory when the protagonist ends up stuck in the ceiling because of the pressure jet of the boyfriend's cumshot.
3. La boda de mi mejor amiga (2011) de Paul Feig.

This movie is the typical romantic comedy, but composed of sex scenes, which is the important thing for us. In the scene we find the actors Kristen Wiig and Jon Hamm while they practice sex in a very peculiar way , the face expression and the movement of his eyes while he fucks will leave you speechless. We can see how they try to practice some of the positions of the Kamasutra but without sexual pleasure for her, but the best part of the scene is the rhythm of the penetration and the movement of her legs.
4. Team America: World Police (2004) de Trey Parker y Matt Stone.

This comedy and action animated movie with adult marionettes created by Matt Stone and Trey Parker, also creators of the South Park series. This movie has been very successful, especially for issues related to politics, but also for a sex scene that lasted over 13 minutes but was finally cut. Imagine playing with two dolls in the style of Barbies and Ken and practicing all possible positions, can you imagine it? Well, that's what happens in this scene.
5. Novio por una noche (2007) de Mark Helfrich.

Yes, I know, another romantic comedy, but we found some scenes with very funny sex touches. The actor Dan Cook (Charlie in the movie) was invited by a girl who wants to kiss him and see his penis in a closet, but he refuses, she gets angry and curses him. Charlie is a flirt, fucks all single women but then, they find the man of his life. In this film we can see the actor fucking in different ways, like for example, on a railing, in a wheelbarrow, on an abdominal bench and even while reading a book …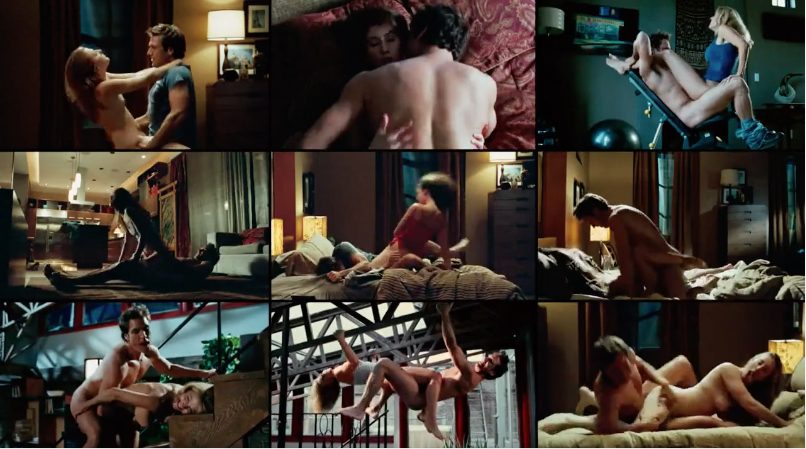 6. The Bronze (2015) de Bryan Buckley.

I think it's one of the scenes that has most impacted me in my life, at least it has stayed in my memory since I saw it. The scene is between Melissa Rauch (better known as Bernadette in The Big Bang Theory) and Sebastian Stan (known for his role as James Buchanan "Bucky" Barnes Capitán América y Avengers). In the scene we can see the couple in a hotel room, taking off their clothes and begin to perform gymnastic stunts on the floor and the bed completely naked while they practice sex. Before seeing the scene they should announce the already famous slogan, "do not try to do it in their houses, these acrobatics are made by professionals."
7. Zack and Miri make a porno (2008) de Kevin Smith

This film starring Elizabeth Banks and Seth Rogen is a comedy where the sex scenes are quite funny, according to the critic could be the porn version of When Harry meet Sally . The film, being a romantic comedy, has a hidden message, there is a difference between fucking and making love, well, I think we all know that, right? There are several scenes in the film that give straw, but there are also scenes that leave you puzzled, for example when two of the actors are shooting a porn scene in a bar and just enter a person to buy a coffee, like nothing is happening.
To make this article I asked the followers of our Twitter (do you still not follow us? What are you waiting for?) And I asked them if they remembered some funny and horny scene in a movie, and I want to thank them for their collaboration because they gave us a lot of references through a very long list of movies, but they also sent us some videos of scenes but they did not tell us what movie it was about, they were silly watching it and they forgot to take the title. Here is a short list of some of the movies that have been sent to us:
Torrente (1998) de Santiago Segura.



Keri Russell en The Americans (Temporada 4, Capítulo 5) (2013-2018) de Joseph Weisberg.


Avatar (2009) de James Cameron.


Crank (2009) de Mark Neveldine y Brian Taylor.


Porkys (1981) de Bob Clark.


50 sombras de Grey (2015) de Sam Taylor-Johnson.


Showgirls (1995) de Paul Verhoeven.


El especialista (1994) de Luis Llosa.


Eyes Wide Shut (1999) de Stanley Kubrick.


Love (2015) de Gaspar Noé.


Watchmen (2009) de Zack Snyder.


Blue Valentine (2010) de Derek Cianfrance.


Risky Business (1983) de Paul Brickman.


Miss Marzo (2009) de Zach Cregger y Trevor Moore.


Young People Fucking (2007) de Martin Gero.


Crimen Ferpecto (2004) de Álex de la Iglesia.


Un pez llamado Wanda (1988) de Charles Crichton y John Cleese.


La saga entera de American Pie.